Crashing through the tree's of the Jungle Swamp of Delvain are the magnificent and colossal creatures known as the Eriadons. I'd have to say that I've been fortunate enough with my travels to never have crossed paths with one but the locals of the swamp have warned me of the beasts; in fact the Salan have an entire order of hunters dedicated to the tracking of these beasts so that unwary travelers may avoid them.
An adult Eriadon can grow anywhere to about thirty three feet tall making them the largest creature in the swamp, it's joked that the Kongradi mate with the Eriadons due to to their massive size and a lot of foolish Westerners believe they mount them like horses. But this is not the case, Eriadons are wild, savage and dangerous beasts that could tear a grown man in half with a single tooth. Of late hunters have been venturing into the jungles in large parties hoping to kill Eriadons or at least wound them because their blood have great healing powers that are to be honest not even completely understood.
It's said an Eriadons blood can cure all manner of ailments however; it's a hot commodity and not something you can simply ask for them to part with. Well that's virtually all I have to say about the Eriadons of the swamp, I imagine though had I ever to encounter one of these frightening beasts I'd have a lot more to say.
- Sincerely Cornelius Fischer.

_________________
/人◕ ‿‿ ◕人\ Let's make a contract. /人◕ ‿‿ ◕人\
Admin



Gold : 450


Posts

: 180


Karma

: 13


Join date

: 2010-08-06


Age

: 24


Location

: Richmond British Columbia Canada.

Character sheet
Level: 2
Next Level:


(102/300)


Morality: Neutral


Living in deep tunnels or caves they create into cliff walls, or in the ground these gigantic relatives to apes have very strange living paterns. Their population, estimated somewhere between 9 - 10 thousand, live in packs of 3 colonies (Families) comprising of 5 members each, make deep and vast subterainean homes or deep burrows into cliffs. Their calloused hands and feet allow for them to have excellent grip on even the smallest of crooks in walls, though it is yet to be found how such giants limbs could perform such feats. At about 5.4 meters high, and about 2 meters wide, these giant creatures make up for their poor eye sight with their accute sense of smell and hearing. They are peaceful for the most part, being omnivores yet prefering to eat grass or other plants. They are only known to be hostile if anything other than their kind enter a vacinity of their current homes. The reason the word 'current' is applied, is because once a colony has made a home, they will stay there for several months then move to another populated area and reside in another colony's abode. This cycle is an odd migration, and only the strongest of groups are able to occupy an empty home by ousting a a challenging group for the right to stay there. Each colony choses a champion who will fight to submission and only on rare occasions do the champions kill one another, unless there is a rivalry. This is because all colonies know that there will be many challengings for survival, and if a champion is slain, they would be weakened- This is a commonly respected tradition among the fights, as reported by many biologists. These reclusive creatures are prey only to nomadic tribes or are sometimes unfortunate enough to be used in Gladiator style combat, where they are trained to go against their natural instincts of respecting fellow champions and kill one another, either unarmed, or adorned in armour and given spiked knuckes, specially designed for their large fists.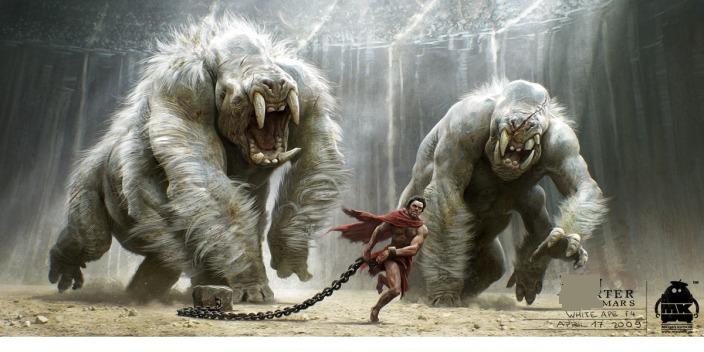 _________________

Time is a great teacher, but unfortunately it kills all its pupils.

Admin



Gold : 1


Posts

: 62


Karma

: 0


Join date

: 2010-08-09

Character sheet
Level: 1
Next Level:


(6/100)


Morality: Good



_________________
"Well don't you know that it's a fool who plays it
cool by making his world a little colder now. Hey Jude."
Admin



Gold : 600


Posts

: 204


Karma

: 3


Join date

: 2010-08-04


Location

: BC Canada

Character sheet
Level: 4
Next Level:


(21/100)


Morality: Hero


This is where the monsters are recorded.

_________________
"Well don't you know that it's a fool who plays it
cool by making his world a little colder now. Hey Jude."
Admin



Gold : 600


Posts

: 204


Karma

: 3


Join date

: 2010-08-04


Location

: BC Canada

Character sheet
Level: 4
Next Level:


(21/100)


Morality: Hero



Similar topics
---
Permissions in this forum:
You
cannot
reply to topics in this forum