There were a cult of summoners who lived long ago, who worshipped a daemon that fed upon the darkness of mortal souls. This thing was an ancient power, cunning, patient and.. persuasive. It convinced the men and women of its desire to aid them in expanding their knowledge of its realm, of which it had tired of its opponents. So they brought it to their world, a presence they thought was formless, thus could only manifest itself in one's subconcious, though they were terribly wrong. Upon days of Barghast's inhabitance of the chosen host, the man's eyes were turning a violet shade, his skin was getting waxy, and he was losing his ability to walk straight. He was dying, could not bear the creature within, so it moved to a new host, by destroying the woman's mental defences, absorbing her soul, as he did the male. Upon entering her, the male died, so the people believed the creature fled. A week into the new, unknown inhabitance, the woman had all the symptoms the male had, with new ones as well; a tail, her arms extended to lengths befitting a creature on all fours, and her canines were so long as to jutting out of her mouth, peeling skin. Upon this shock, the necromancers were torn out of their obliviousness to the changes, which they registered as a spell cast upon them by this monster. The beast had seen this was the end for his conjurers's use, and fully transformed to it's original shape, a massive beast, about 4 meters long, and about 2 and some meters on its haunches. It then proceeded to ignore the petty attempts of the men and women to place him back in his own dimension and clawed some, while sending tendrils of darkness to absorb the life-force of the others, devouring their souls as well. When it was alone in the cave, it found itself extremely weak, due to the forced transformation before it was ready, along with the change in environment and air quality. To protect itself against unwanted observation, it used its ability to bend light in on itself to cast a permenant shadow upon itself, while it rested. Yet now with the approaching return of the darkest force imaginable, it has awakened, preying upon those it encounters while exploring this new, colourful world.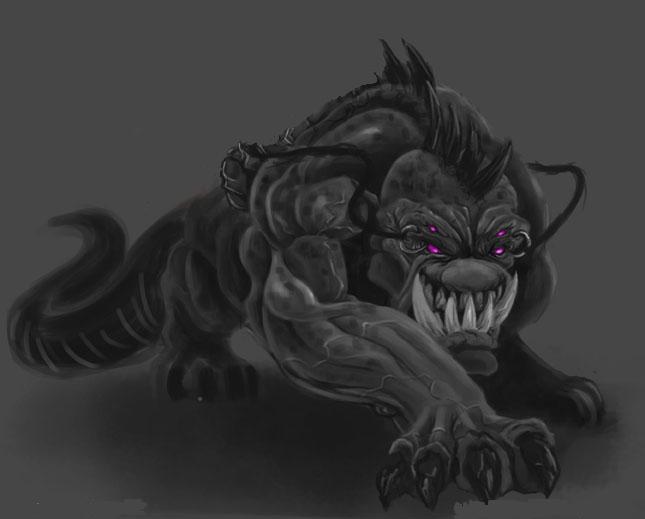 Last edited by Allanon Creel on Sun Feb 19, 2012 1:39 am; edited 1 time in total
_________________

Time is a great teacher, but unfortunately it kills all its pupils.

Admin



Gold : 1


Posts

: 62


Karma

: 0


Join date

: 2010-08-09

Character sheet
Level: 1
Next Level:


(6/100)


Morality: Good


Deep in the eastern oceans lies a behemoth among octopi, a creature so massive it is one the sole reason neither Templar nor Mortulian force boast a navy. Mockra- Mortulian for Death and D'rek-Thyr, translated from ancient Templaric to present, meaning 'From below.' It is unknown how the two languages merged to give the beast it's name, yet is accepted for none would claim it as their word-- it is a curse among both languages. The beast, described by the handful of survivors decades past, was said to have blotted out the sun from when it emerged infront of them in the morning. It had a pair of luminescant bright green eyes, 8 tentacles each easily the width of three men laying foot-to-head in one direction. The tentacles were immersurably long they said, and it's maw, that cavern it used to close upon food was rimmed with teeth as big as balistae able to devour thirds of galleons with the ease of crunching into pickles. There are mother's tales to frighten misbehaving children that it possesses a certain ability to reduce its size, allowing it to travel in the underground rivers, able to pop up and grab anyone who's misbehaving. One thing is frighteningly true, however, is possible, at night from the high towers of Ponferrada to see it's glowing eyes underneath the rolling waves, waiting for anything to venture to the shores, always waiting, for it has all the time in the world.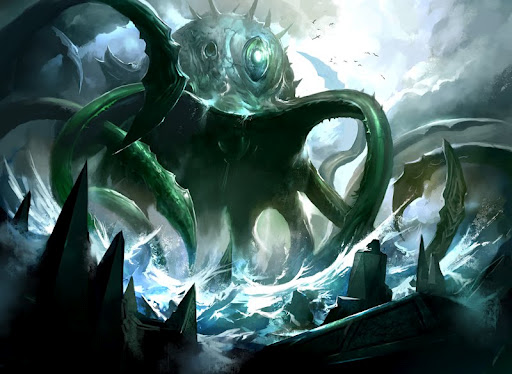 _________________

Time is a great teacher, but unfortunately it kills all its pupils.

Admin



Gold : 1


Posts

: 62


Karma

: 0


Join date

: 2010-08-09

Character sheet
Level: 1
Next Level:


(6/100)


Morality: Good


This is where the amazing, rumored creatures are recorded.

_________________
"Well don't you know that it's a fool who plays it
cool by making his world a little colder now. Hey Jude."
Admin



Gold : 600


Posts

: 204


Karma

: 3


Join date

: 2010-08-04


Location

: BC Canada

Character sheet
Level: 4
Next Level:


(21/100)


Morality: Hero



Similar topics
---
Permissions in this forum:
You
cannot
reply to topics in this forum